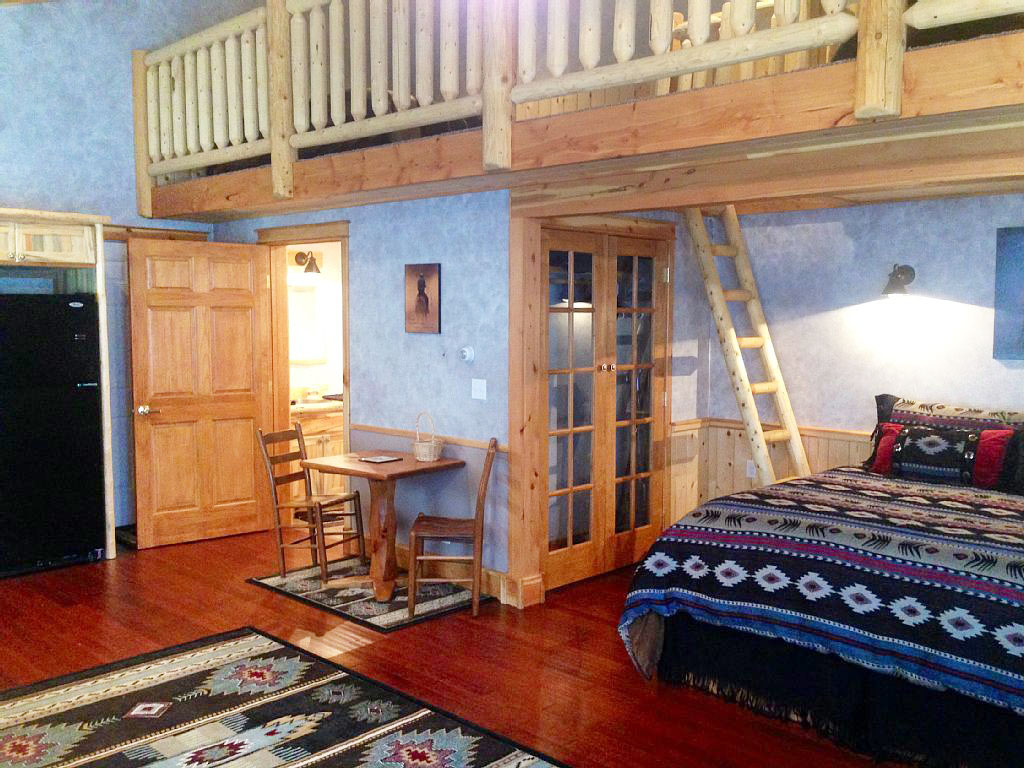 THE SHED
FEATURES:
- 1 California King Bed
- 2 Full Beds (in loft)
- 1 Bathroom
- Flat Screen TV w/Dish Network
- Full Kitchen
- Gas Fireplace
- Ground floor Access
- Wi-fi
 
We designed and built the Shed to have a private suite for our personal guests visiting at the ranch. We needed a place where friends could bring their families and enjoy time on the ranch or in the area and have privacy to enjoy some fantastic family time. Part of these plans included a custom kitchen made from rustic blue pine and repurposed granite. The Shed has everything you will need to prepare and enjoy your favorite meals. On the counter you will enjoy a generous portion of fresh coffee roasted for us locally by Snowy Mountain Coffee.
The Shed is especially romantic when it's cold with the cozy warmth of the Vermont Castings Fireplace. Close the curtains, dim the lights, and watch the fire. Let it warm and rejuvenate you after a hard day of riding, touring, or meetings. With the tub and shower, and plenty of warm water, you'll be clean, cozy, and warm, and ready to relax.
Because of the fantastic insulation, the Shed is cool in the summer. Although we have a window air conditioner, it is actually not needed most of the time. Whether it is hot or cold, you can enjoy your favorite shows on Dish Network from the lazy boy, the rocker, or the California King bed on the main floor.
A highlight for children is up the pine ladder. Here you'll find two full pillow top beds, behind the handcrafted railings, overlooking the kitchen and fireplace.
This suite is equipped with a semi-private California King bed on the main floor and the 2 loft beds, this unit can sleep up to six people.
The Shed is affordable enough for a single or couple and yet has enough room for a good sized family. Being on the ground level, this unit will accommodate guests with some types of disabilities.